Halloween night at the Palau de la Música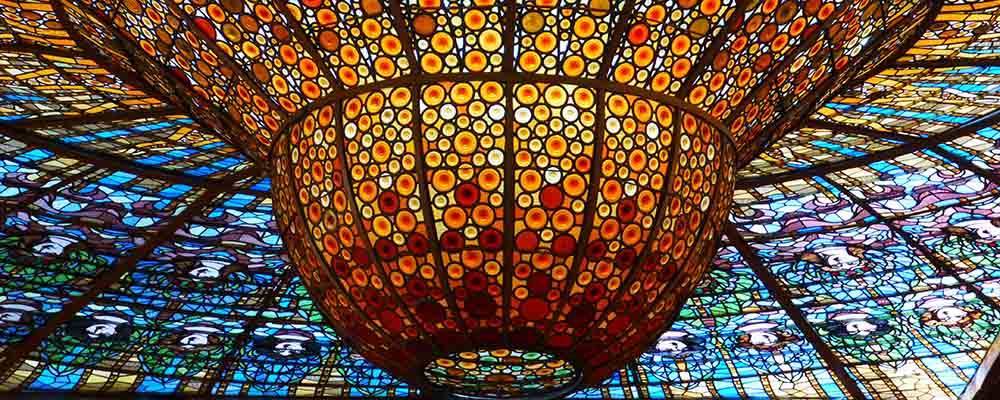 If you are one of those who enjoys role playing and eager to put on the costume of a vampire you must have been looking for a place where to go on the 31st of October. Barcelona offers many options to celebrate Halloween.  We find quite appealing a Halloween night at the Palau de la Música.
They say  in the Palau you can contact  the unknown. Why don't you find out whether this statement is true! The night consists of hidden spaces, macabre dances, funeral parlor rooms, requiems, and spooky architecture… All this and more awaits you inside the Palau if you sign up for the midnight Halloween event. The bravest have an option to spend the night in the modernist hall of this historic building afterwards!
And yes, Palau de la Musica is an incredibly beautiful place. If Halloween is not your cup of tea, drop by it any other day to appreciate Catalan Modernism or even enjoy a concert of classical music.
Best way to get there is by metro: Urquinaona (M: L1,L4). The price is €24-€30. The sleepover  is  €54-€60.
La Castanyada
La Castanyada, a traditional event that takes places in many parts of northern Spain is nothing but a chestnut party. You have probably already seen sellers at street stalls, toasting the dried fruit of chestnut and wrapping it in a piece of paper. Besides chestnuts, the typical food embraces roasted boniatos (sweet potatoes), panellets (traditional Catalan almond balls) and moscatell – a variety of sweet wine that comes from the muscatel ripe grapes.
La Castanyada is related to All Saints Day, the day all the Catalans are waiting for. Most probably because  it's a red day on the calendar! Go out and celebrate this day, eating and drinking local goods. Just wander around the city enjoying a weather and good company  and you will definitely run into a seller of these things.
Gramatik

If you find yourself around Poble Espanyol on October, 31, meet Denis Jašarević.  This guy, known by his stage name Gramatik, is a Slovenian electronic music producer, originally from Portorož, Slovenia.
It seems he doesn't take music seriously: "I'm a part-time musician and a full-time comedian so never take my music seriously; it's just one of my many elaborate jokes." Nevertheless, his joke lasts for too long. Gramatik has been a mainstay in the electronic industry for well over a decade now. It is hard to describe the music he creates, it has unique rhythm and chill vibe.
You can also wander around Poble Espanyol before the event and get to know architectural styles of different areas of Spain through  replications of 117 buildings, or drop by those tiny shops and have a glass of wine accompanying it with tapas.
 Andy Warhol. Mechanical Art
The exhibition presented by "la Caixa" Foundation addresses the complex work of this Pittsburgh-born artist, placing particular emphasis on the changes his oeuvre underwent over the course of his career.
The exhibition provides an opportunity to focus on the repetitive, schematic and artificial nature of his visual work during more than three decades of feverish creative activity.
Warhol. Mechanical Art includes the most emblematic and universal icons created by Warhol: his Campbell's Soup Can series and his portraits of Marilyn Monroe, Jackie Kennedy, Liz Taylor and much more. The display contains a total of 352 pieces, among them paintings, sculptures, drawings, screen prints, installations, artist's books, films, album covers, posters, magazines objects and photographic material. Even if you are not a devoted lover of the artist, this exhibition might spice up your week and imagination.
Venue: CaixaForum Barcelona (Av. de Francesc Ferrer i Guàrdia, 6-8).
Enjoy your week!
Yours,
FreeDa