Salterio tea-room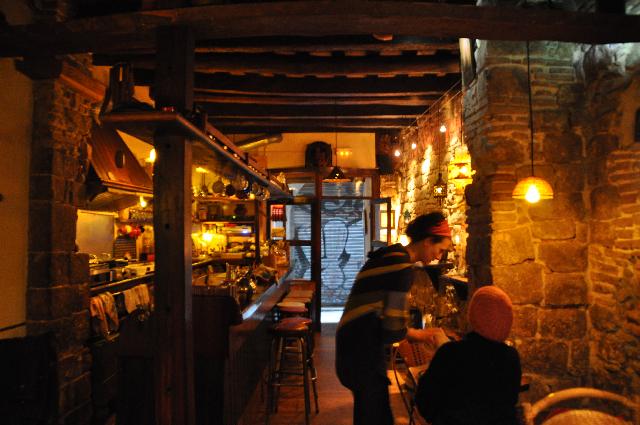 Gothic quarter is a region full of hidden gems; one of them is cozy and atmospheric Salterio. This tiny venue draws you in from the street with its funky vibe and vibrant atmosphere. If you find yourself cold and hungry around this neighborhood, you should try their delicious food, and warm yourself up by choosing something from their wide selection of teas. If not, some good coffee, beer or wine are also at your disposition. The mix of foods is not extensive but at the same time super eclectic (also includes vegetarian plates), from the olives to the deserts. Also, the staff is very welcoming and attentive. The address is Carrer Sant Domenec del Call, 4 in Bari Gotic.
Floating above the city. Barceló Hotel Raval
A spot with picturesque views, nearby the city center, is the rooftop of Barceló Hotel Raval. El Raval is located next to Las Ramblas and is known for its admixture of people, stores, and restaurants from across Europe. Barceló hotel is rising surpassing the rest of the buildings in the district and is famous for its 360° Terrace. Enter the elevator and enjoy the panoramic view; there is the Montjuic hill on one side, the Bari Gotic and Sagrada Familia on the other and a beautiful view on the sea and the mountains between them. There is a bar where you can grab a drink, but don't expect economic prices, or easily do without it just floating above the city. Grab a warm scarf; it's going to be windy!  The address is Rambla del Raval, 17-21.
Vestida de Luz
Photography is an art of observation, a way of feeling. It's about finding something unique in ordinary. According to "Female's soul" aka Yolanda Berzosa Santiago, photography is her freedom. In this world that demands skinny women, without birthmarks, without any flaw at all the artist emphasizes that "women do not have physical but psychological defects because they believe they have errors in the body that they must correct." Her photographic style; delicate, suggestive and elegant. Her latest works under the name "Vestida de Luz" is related to the female nudity and its empowerment; seven works that explore the freedom that the artist seeks for. Visit the exhibition until the 20th of December and experience the sensibility and fragility of the female nature the artist wants to express. The address is Carrer d'en Roig, 11 and the entrance is free of charge.
Street art. Boqueria
Street art is scattered all around the city, and if you're eager to discover something, there is a spot we know and ready to reveal. Every tourist guide would mention that you need to visit La Boqueria, but most probably an interesting part of it will be omitted. Once you are in the market, keep walking straight until you've reached the other side. What you'll find there is an alternative type of art gallery. There is a whole pathway with pure street art and graffiti sprayed across every van parked behind the market.
It is hard to understand whether this is an illegal act of self-expression or a planned marketing move of the Boqueria itself. You are to figure that out.
Enjoy your week!
Yours,
FreeDa